Discover the National Parks in the South West of England
Think rugged coastlines, sandy beaches, great surf and sparkling blue seas, the wild moors of Dartmoor to the Somerset Levels and the dramatic Cheddar Gorge, the South West has plenty to offer. With a lively arts scene, great local food and walking and cycling opportunities galore.
Dartmoor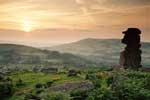 Full of history and heritage, ancient woodlands, dramatic wild moors and a wealth of archaeological treasures, artistic and literary connections, Dartmoor is a great place to stay - not just pass through going to Cornwall! Plenty of walking routes for all abilities; horse riding and cycling opportunities; pretty villages and thriving towns with great local produce.
Find Cottages near Dartmoor.
Exmoor
For gentle wooded valleys, breathtaking open moors, and a stunning coastline, Exmoor offers numerous opportunities for walking, mountain biking, cycling, climbing, canoeing or sailing. Not forgetting horse riding and fishing or simply visiting the wonderful host of pubs available.
Find Cottages near Exmoor.